Stop Living with

Chronic Knee Pain.
Knee replacement surgery is NOT YOUR ONLY OPTION. Thousands have benefited from our safe, effective and NON-SURGICAL alternative.
A painless gel injection with near-instant results.
Over 2,500 5-Star Reviews
More Than 18,500 Patients Treated
Fast, Easy, and FDA Approved
Stop Living with

Chronic Knee Pain.
Knee replacement surgery is NOT YOUR ONLY OPTION. Thousands have benefited from our safe, effective and NON-SURGICAL alternative.
A painless gel injection with near-instant results.
Over 2,500 5-Star
Reviews
More Than 18,500
Patients Treated
Fast, Easy, and FDA
Approved
Knee injections done the right way.
Why am I experiencing knee issues in the first place?
You were born with a plump layer of cartilage in your knees, much like a pillow between the thigh bone and the leg bone, which naturally gets thinner over time with use. This is a common occurrence that is only made worse by Osteoarthritis, which could speed up the degradation.
When the cartilage gets too thin to keep the bones in your leg apart, the bones rub together, causing inflammation, which leads to symptoms ranging from soreness to sharp pain. Without treatment, your cartilage pillow may be worn away completely, which can be extremely painful.
We use a 100% accurate method that treats knee pain differently.
The Joint Relief Institute has the expertise and technology to safely plump the "pillow" in your knees. By injecting a gel of hyaluronic acid, the exact same substance your body produces naturally, we can revitalize your knee and restore its mobility, without side effects.
Unlike any other gel injection treatment out there, we place the gel correctly 100% of the time, using live digital imaging equipment to ensure precise placement. With a real-time view inside your knee, the doctor can be certain that it's done according to nature's design.
"It is a gift not to have surgery. Last year, my shots lasted all year. I taught fulltime, and I would not have been able to do that without these injections. Thank you."
—Linda R.
"I highly recommend Joint Relief Institute. There was no pain during the procedure. Within a few short weeks, I was free from knee pain. Thank you so much."
—Greg A.
ABOUT THE JOINT RELIEF INSTITUTE
Our mission is to end knee pain in the fastest, safest way possible.
We're here for everyone because, as doctors and physician assistants, we've sat with patients who carry the physical and mental scars carved into them by surgery and narcotics. We will do anything we can to save our patients from risky surgery and brain-fogging drugs.
With 3 locations in the mid-west, we hire the most caring and capable medical staff, and invest in the most advanced equipment to be the #1 destination for knee-restoration in the mid-west.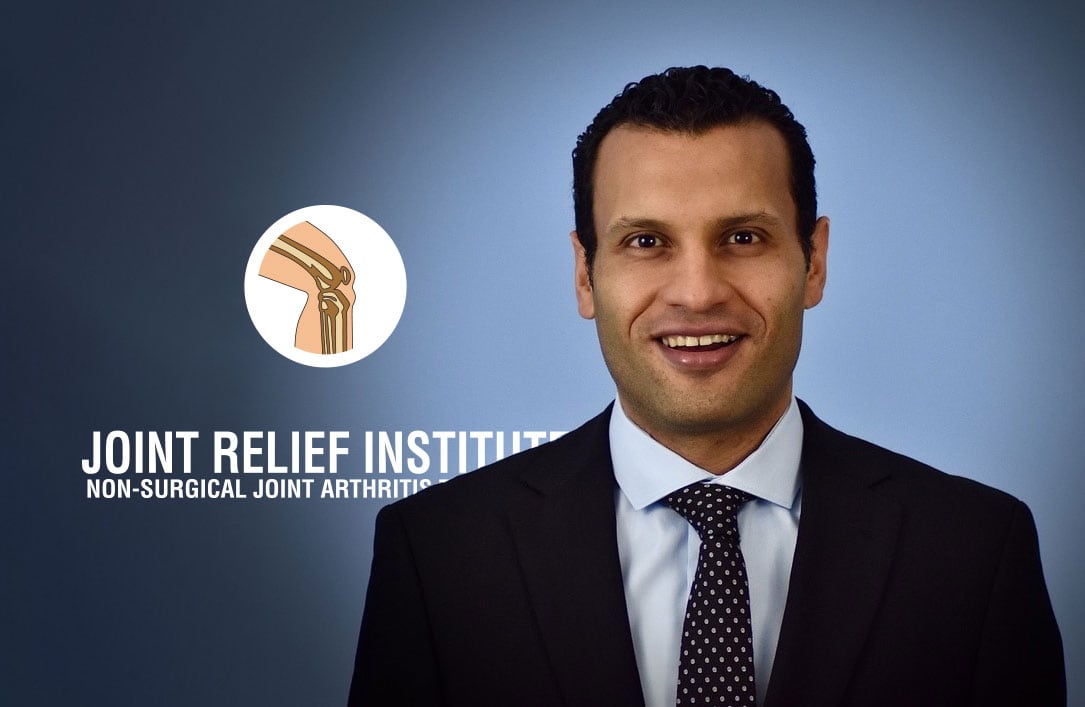 "We, the doctors of the Joint Relief Institute, are board-certified in Anesthesiology, Pain Medicine, Sports Medicine, Physical Medicine and Rehabilitation, Emergency Medicine, Family Medicine, and Urgent Care. If you'll give us a moment, we'd like to tell you why we came together as a team from different backgrounds and chose to build the Institute."
—Mike Hana, MD
"I would give them 10 stars if it were possible. I am so pleased and overwhelmingly happy with the help I have received from this clinic.
My plan now is to fly my brother in the county so he can get this treatment as well…so many places told me they couldn't help me until I found Joint Relief Institute…what a blessing."
—Lupa D.
read mary's success story
I danced at my granddaughter's wedding!
Everyone expected Mary to shake her head when Robert held out his hand at their granddaughter's wedding. Mary had given up a lot of things when her knees started to quit on her. Dancing was just one of these things. But Robert clearly knew something had changed with his wife because Mary smiled at him and stood up without hesitating. Slipping her hand into her husband's, Mary stepped confidently onto the dance floor. And as their family watched in amazement, Mary and Robert showed the kids how it was done.
Afterward, they all wanted to know Mary's secret. How had she transformed her knees from can't to can?
"It's simple," Mary told everyone who asked. "I limped into the Joint Relief Institute, and I danced out."
After years of pain, it turned out all Mary needed to get back on the dance floor was a few painless gel injections in her knees.
Frequently asked questions about hyaluronic acid knee injections and relieving knee pain.
How long will my relief from knee pain last?
For some patients, the pain relief from a single series of three to five weekly injections will last for years. Other patients might come back for another series of injections six months later. Repeating the treatment is no problem because the treatment is safe and FDA-approved.

How long your relief lasts depends on your knees and your body, so we can tell you more about your specific situation when you come in for your No Obligation Consultation in one of three Chicagoland locations.
Are knee injections covered by Medicare and insurance?
Knee injections are approved by Medicare and most PPO insurance plans. This procedure is currently not approved by Medicaid or HMO plans, with the exception of Humana Gold Plus. If you're unsure about your insurance coverage, please give us a call so we can help you determine your eligibility.
Where are you located?
We have 4 different locations: Orland Park, IL; Oak Brook, IL;  Northbrook, IL; and Edina, MN.
How quickly will knee injections take away my pain?
Knee injections provide pain relief in your knees in three ways – starting immediately. First, the injection numbs the pain as it bathes your distressed cartilage. The relief is so immediate, you'll feel better the moment you stand up from the doctor's chair.

This first wave of relief rolls into the second wave of relief, a robust anti-inflammatory effect. This effect continues to work independently over the next few days, reducing and treating the painful inflammation in your knee.

Your third wave of relief comes as the gel itself lubricates your knee joint. This thick lubricating fluid delivers long term pain relief by stimulating your body to continue producing its own gel as it once did when you were younger. You can enjoy several months to years of freedom from pain as your knees feel young again.
If you are experiencing chronic knee or shoulder pain, please contact us today to setup a no obligation consultation. We have 4 convenient locations in the mid-west and we're passionate about getting our patient's mobility back.
Book your No Obligation Consultation.
Ready to get started? Call us or fill out our online form now!
Here's what to expect:
Step 1: You'll be contacted by a new patient specialist, who will determine your eligibility and schedule an appointment at one of our 4 convenient mid-west locations.
---
Step 2: We'll welcome you into the office and introduce you to our friendly clinical staff. A provider will ask you a few questions to verify your eligibility, answer any questions you have, and then take a digital image of your joint to determine the cause of your pain.
Then, they'll explain the procedure – if you decide to continue, a provider will capture a real time x-ray of your joint (called Fluoroscopy) to guarantee the gel is placed correctly.
There are very few physical limitations after the procedure – go do almost anything you want afterwards, pain free!
---
Step 3: Depending on your treatment plan, you'll visit 3-5 more times to complete your gel series. When you "graduate" and receive your final treatment, our family celebrates with you, and we'll schedule a future follow up to make sure you're still living pain free!
By clicking "Book Now" I accept and agree to receive calls and/or text messages from the Join Relief Institute ("JRI"), JRI's partners or authorized 3rd parties at the telephone number provided, and that such calls or text messages may be for telemarketing and advertising purposes related to my inquiry as well as future opportunities. I understand and acknowledge that such calls or text messages may be sent using an automatic telephone dialing system or other automated means and that message and data rates may apply.